Fellows' upcoming Antiques & Collectables sale features our largest collection of Blue John items since 2015. The beautiful Blue John pieces range from multiple brilliantly designed bowls, some beautiful raw specimens, and some pedestal urns. The origin of the Blue John title is still relatively unknown, but it has been used for centuries as a precious stone. Blue John had been mined around the Castleton area in North Derbyshire – the beautiful area situated within the Peak District.
There are numerous caverns in Castleton, including the Treak Cliff Cavern and the Blue John cavern, of which the mineral originates. The caverns have been popular for site seeing over recent times and Fellows have on different occasions sold collections of Blue John. The mineral has always been popular at Fellows' auctions, with our 2015 sale being a prime example, and our upcoming Antiques & Collectables sale is sure to be no exception.
Fellows held a popular Blue John sale in October 2015, and this is the largest collection of Blue John that the company has had since. The range of items in this sale varies, and estimates range from in the hundreds to the thousands, with different items sure to suit a variety of tastes. There are almost 100 items of Blue John in this Antiques & Collectables sale. An array of the fascinating items on offer can be seen in the below cover image – with a diverse range of different objects to be admired.
Some of the Blue John items in this sale include a 19th century Blue John pedestal urn, a large signed Blue John pedestal cup or chalice, and a Blue John goblet or pedestal cup. The items are sure to be hugely popular. The full hammer total of our October 2015 Blue John sale reached £238,000, conveying the popularity of the precious stone. There were some fascinating items for sale, such as a magnificent ormolu-mounted Blue John urn, which sold for £21,000, and a superb Blue John campana-form urn and cover, which went under the hammer for £20,000.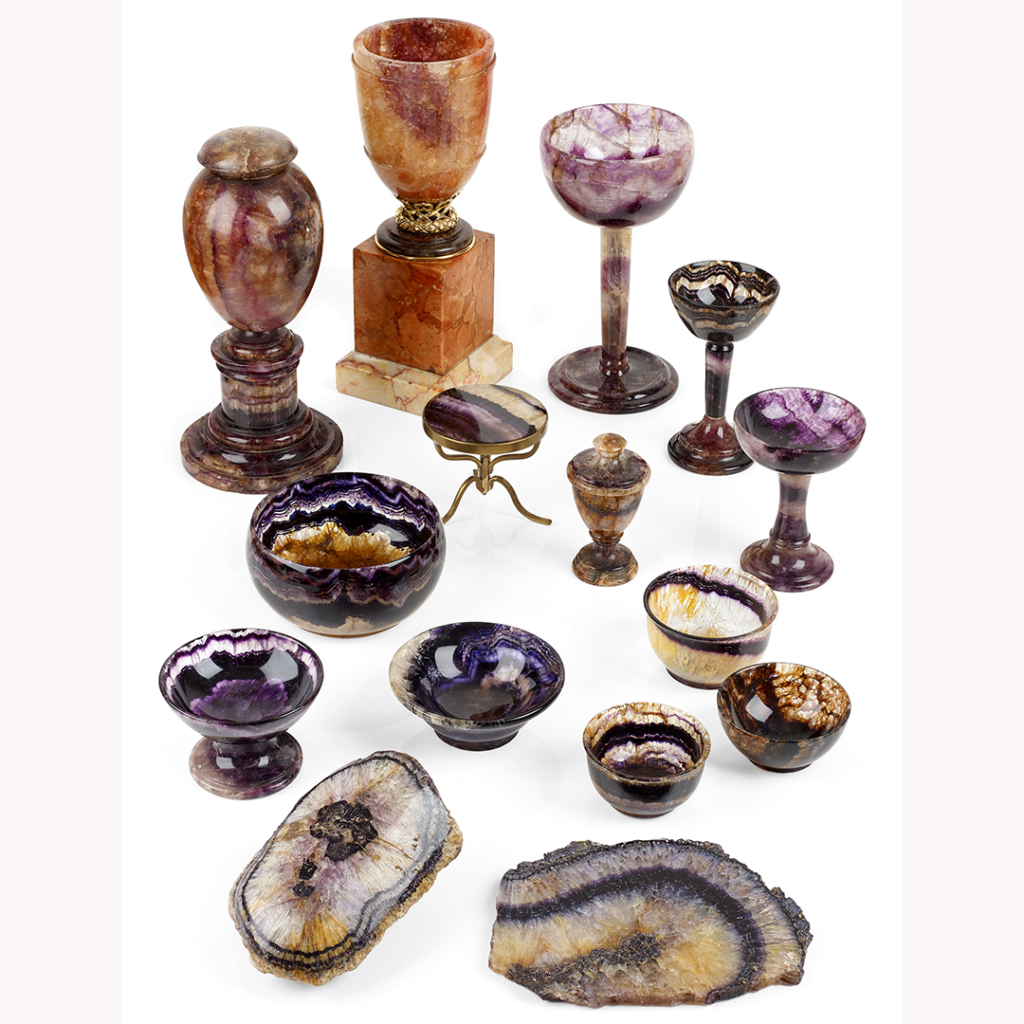 The Antiques & Collectables sale is now available to view online and in person at the following times:
1st March 2018 10.00am to 4.00pm
2nd March 2018 10.00am to 4.00pm
3rd March 2018 11.00am to 4.00pm
5th March 2018 8.30am to 10.00am
Photo ID is required
The auction will take place on Monday 5th March, starting at 10am.