Lot 20 in Fellows' upcoming Antique & Modern Jewellery sale is an iconic example of Art Nouveau jewellery created by the workshop Fonsèque et Olive' around 1889, the design is called 'the grape' (le raisin). The item sold for a full price of £2,296.80 (all fees included).
We spoke to David Pregun, Junior Cataloguer from the Jewellery Department at Fellows, who has researched this fascinating item:
The grape proved to be incredibly popular at the time ensuring the success of the company. This workshop is also thought to be the initiator of the 'medallion-type' jewels, produced by many companies even today. One of the most important publications about this jewellery is called 'La bijouterie Française au XIXe siècle by Henri Vever, published in 1908. He describes the history of French jewellery in the 19th century with innumerable illustrations, and with his work he helped found the canon of the history of jewellery. Therefore, finding a piece that is mentioned and depicted in this book is safe to say, quite special.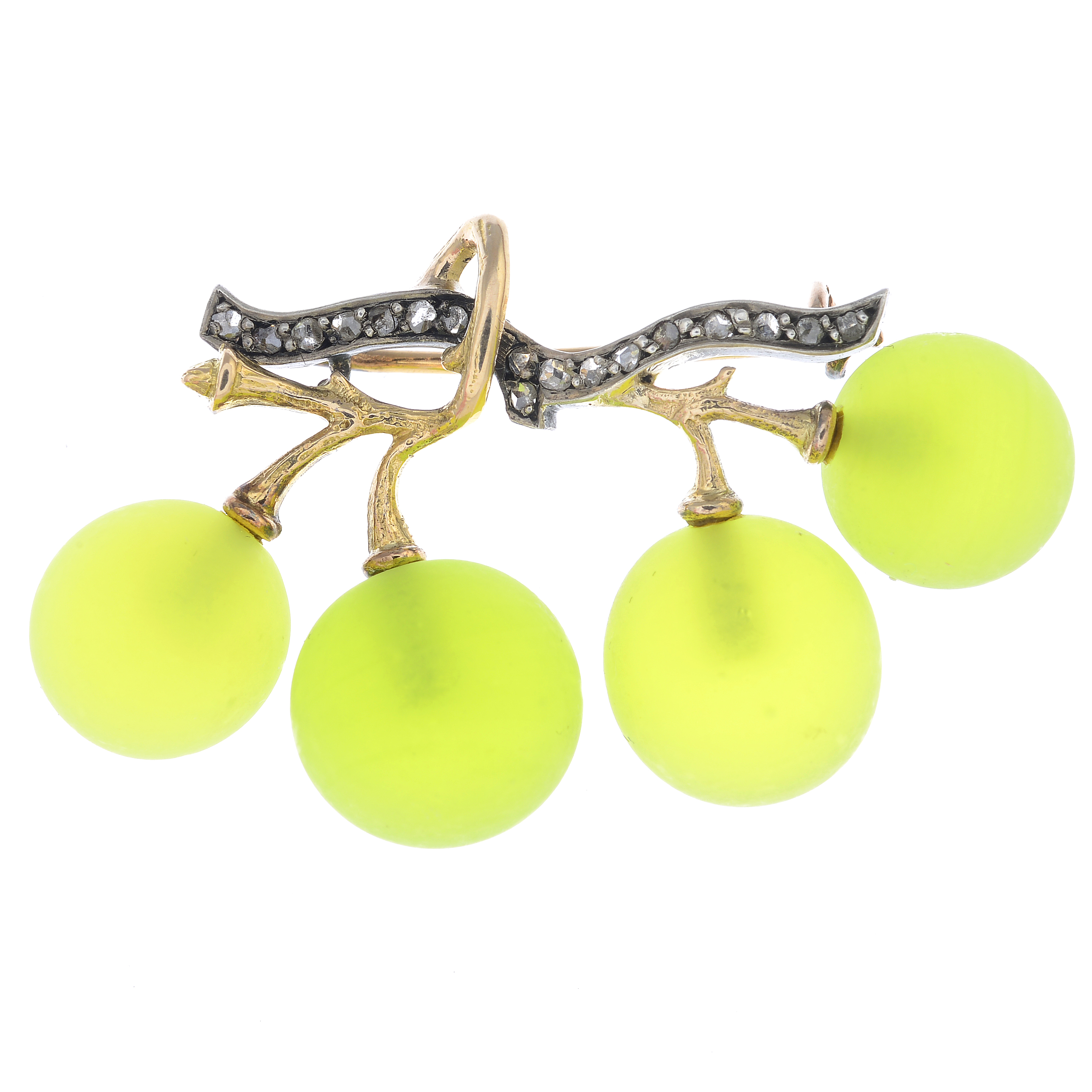 The Franco-Prussian war ended in 1871 and had an impact on most artists and designers. Inspired by the tragic events of the war, master goldsmith of the time, Lucien Falize, manufactured intricate pieces using 'French colours' (blue, red, white) in his enamelled designs. These are often referred to as pieces of 'patriotic' jewellery. Emile Olive succeeded Georges Le Saché as designer for Falize. Famous designers of the time were part of workshops or firms referred to as 'maison'-s in French (often lead by a master jeweller), such as Maison Fouquet, Boucheron, Deshayes, Menu and Fonsèque et Olive all using novel materials such as glass, and developing new techniques. The following few years in Paris were all about workshops competing to produce exquisite pieces, showcasing their work at the International Expositions. Their ambition was to make floral jewellery that most resembles nature and naturalistic forms.
This particular design is uniquely French and immediately recognisable. It was only in production for a few years and therefore it is rare and collectable. It signifies the early days of the Art Nouveau Movement and directly impacts jewellery making for subsequent years.
We are really pleased with the result achieved for this charming and exceptional brooch. It proved to be popular even today, 130 years later, which shows that Art Nouveau jewellery is very much sought after and collectable in the current market.