A historic military Panerai watch head acquired from a German "Kampfschwimmer" diver during WWII is set to go under the hammer at Fellows Auctioneers. Captain Alfred Packer of 43rd Reconnaissance Regiment attained the watch during Operation Market Garden in the Netherlands, in September 1944. The Panerai is estimated at £20,000 – £30,000 in Fellows' upcoming Watch Sale on Tuesday 2nd April.
The watch will go under the hammer along with Captain Packer's military issue jacket, photograph, military service records and a fascinating personal diary depicting the experiences of the regiment in 1944. The watch was passed down to Packer's son, and has been kept in a drawer since, without being worn. Personal diary entries show how Packer and others in his regiment contributed to the capturing of Kampfschwimmers.
During Operation Market Garden the German frogmen, or Kampfschwimmers, attempted to thwart the Allies from securing a route to Arnhem. Their mission was to blow up river bridges and roads in Nijmegen. The frogmen were unsuccessful in blowing up a bridge at Nijmegen, and were eventually captured by the Allies, where it is believed the watch was acquired.
One section deciphered from Packer's personal diary can be seen below:
Friday 29th September 1944
Bridges blown by Germans. B Sqn captured 5 of the party. Swam down the Rhine from Germany in special rubber swimming suits with rubber feet like frog's feet. Rather a clever performance on part of Jerry. We are now rather like a beleaguered garrison. C.O. told me some rather disturbing news. Hope all will be well. Sup[plie]s will come across in DUKS I understand. C Sqn captured 5 more of the 'dynamiters'.
Captain Alfred Packer, from Bristol, became Captain in May 1944. Before the war, he worked as a commercial traveller for a biscuit manufacturer, and after cease fire was promoted to Major to serve in occupied Germany. Packer was discharged from the Army in April 1946, before he returned home and went back to his old job with the same employer until he retired.
As WWII was looming, Panerai and Rolex worked closely together to manufacture military watches for the Italian Navy, many of which were requisitioned by German forces. This particular watch has "Kurt Kohlrusch" inscribed on the back of the case. It is believed that Kohlrusch was the German diver who wore it during the Second World War. There are records of Kohlrusch being captured and held as a prisoner of war.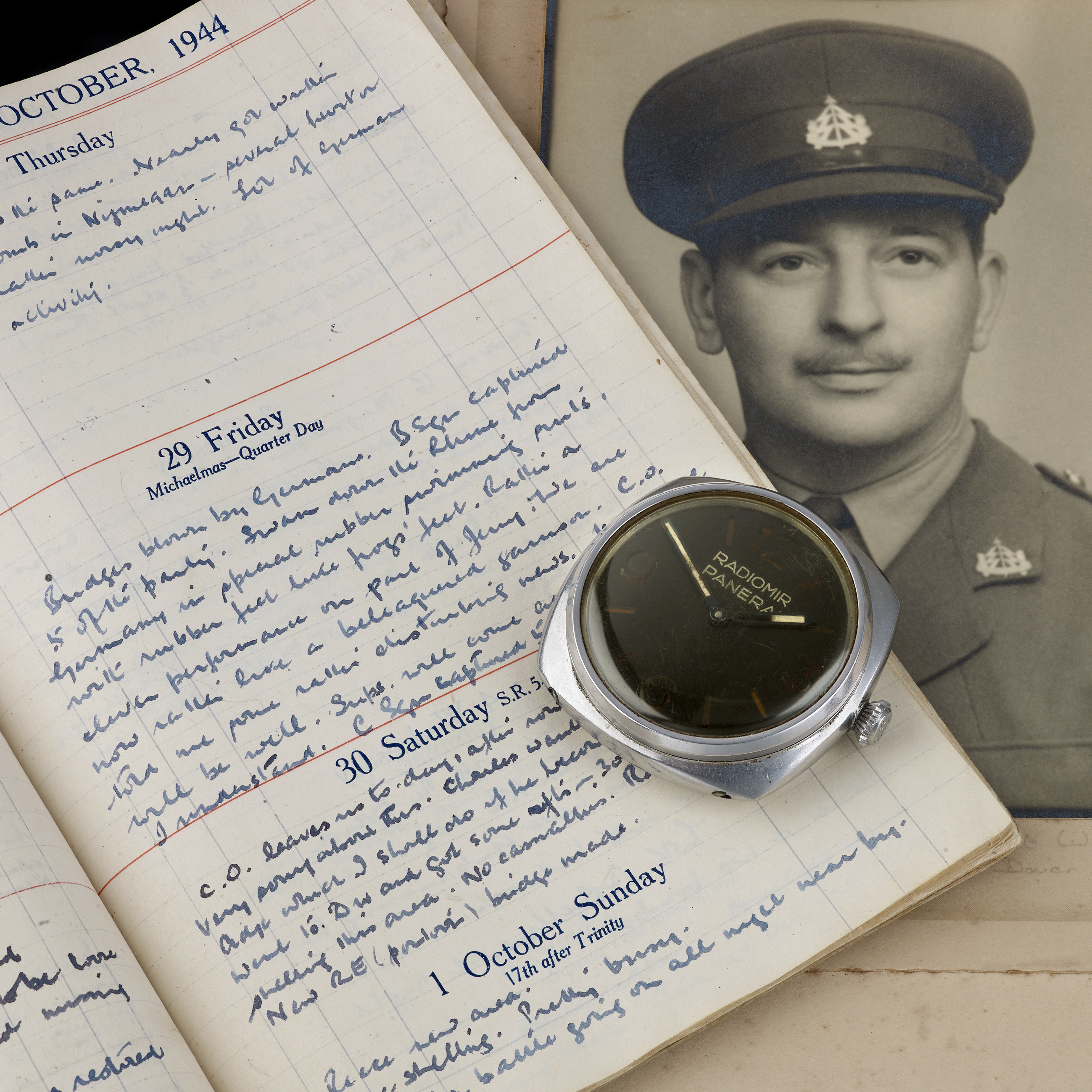 Fellows sold a similar Panerai in January 2018, belonging to George H. Rowson who was also part of the 43rd Reconnaissance Corps. Rowson, who served alongside Packer, scratched his own name on the case back of his watch. This is the second piece of history from the same operation that Fellows have had up for auction in the past year.
Laura Bishop, Watch Manager at Fellows, said: "We are delighted to be able to offer another Panerai from WWII in our April Watch Sale. Following on from the success of the Panerai 3646 in January 2018, we can't quite believe that we have another one up for sale. This example may be missing the wire lugs but the provenance certainly makes up for this. It really is an honour to sell such an exciting and rare piece of history.
It is astonishing to think that the two WWII Panerai watches we have had up for auction in the past year were seized as part of the same altercation by men who would have surely known each other. Although there is no evidence of their families, who later consigned the watches to us, ever having known of each other, both watches have turned up at our auction house in Birmingham. We know that 10 divers were captured during this time and a couple more watches have come to auction recently. By my count there are still 6-8 watches unaccounted for."
The Watch Sale is now available to view online and in person at the following times:
26 March 2019 12noon -7pm (London)
30 March 2019 11am – 4pm (Birmingham)
1 April 2019 10am – 4pm (Birmingham)
2 April 2019 8.30am – 11am (Birmingham)
Photo ID is required